Grande Flowers' Tropical Orchid Bouquet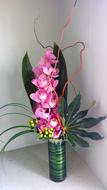 SKU: #GFTOB
A stunning tropical cut orchid spray arrives in a leaf-lined vase and accented with tropical foliage and grasses. Cymbidium orchids offer a unique, long lasting alternative to traditional flower bouquets.
This item is only guaranteed for local flower delivery in Milwaukee, Shorewood, Whitefish Bay and surrounding areas.
This item may not be available for same-day delivery but may be available in other colors - Please call for availability.
Dimensions: 14 in × 10 in × 28 in