Grande Flowers' Orchid Accents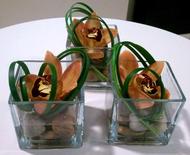 SKU: #GFOA
Grande Flowers created this unique floral expression with individual orchid blooms, river rocks and lily grass in clear glass cubes. This item makes a great centerpiece as a set or as individual decor anywhere you would like.
Also available in many other colors - please call for availability.
Glass rental is available for weddings and parties at a discounted price.
This item may not be available for same day delivery and is only available for flower delivery in the Milwaukee area.
Dimensions: 4 in × 4 in × 5 in